The 34th Season Session. Global 5G Community. 5G UAV Unmanned Aerial Vehicle. 4G to 5G RAN Smooth Transition. 5G Transport network requirements. 5G Mobile Edge Computing. 5G for digital twin and metaverse. ORAN scenarios based on real life experiences. 5G Mission Critical Communication Services in Thailand. An Applications SDP using MCN and Private Network

Telkomsel is consistently building selective 5G network infrastructure. At the moment, it has more than 300 5G sites in 49 cities to support B2B use cases and several B2C clusters. To implement 5G with a smooth transition at an efficient cost, the current rollout uses DSS 2100 MHz for coverage and DSS 2300 MHz for capacity. Telkomsel has successfully implemented 5G to support several strategic events,such as MotoGP in Mandalika, The first 5G underground smart mining in Southeast Asia in collaboration with Freeport, and the G20 leadership meeting in Bali. A massive 5G rollout faces several challenges, including 5G device capability readiness, new spectrum readiness for 5G, infrastructural limitations (tower and transport), and, last but not least, the limited use case readiness.
The 33rd Season Session. 5G mmwave. 5G Security. Network Programmability to Enhance Ecosystem Innovation. Open RAN. Beyond 5G: 6G NTNs. eSIM 5G. 3GPP RAN1/ORAN. Ubiquitous Communic 5G networks.

Network operators should be aiming to create a new revenue stream and deliver value to its customers by offering open APIs that allow anyone to add connectivity to any device or service. The healthcare industry is one of the areas that this technology could be beneficial, by offering service provisioning, location reporting, session quality management, and enhanced monetization and cost controls. Vlad added, "In the use case presented, we highlighted how these APIs could be used by developers to enhance the service to their customers. Using an API-first SaaS Charging engine, like Totogi, should also be a big priority for operators to allow highly customizable interactions with their customers.
The 32nd Season 3GPP Release 18.Network Slicing.How can Telcos Capitialize on Metaverse. Beyond Connectivity. Ambient Intelligence (AmI) in 5G-Advanced.Future Industry trends of 5G including Web3 and Metaverse.5G 4k & 8k Video streaming & AR, VR.GSMA APAC 5G Industry Community & IoT. Innovative 5G Sync Solution.
The motivation behind supporting Ambient Intelligence (AmI) application in 5G-Advanced networks is combining the power of energy harvesting, IoT, sensing, cloud technologies and 5G-Advanced networks to cost-effectively network operation to satisfy a specific goal or interact with humans subject to natural form of inputs such as sentences and facial expressions. In 3GPP Release 19, two broad categories of use cases or design options will be explored; Ambient IoT and Service Robots with Ambient Intelligence.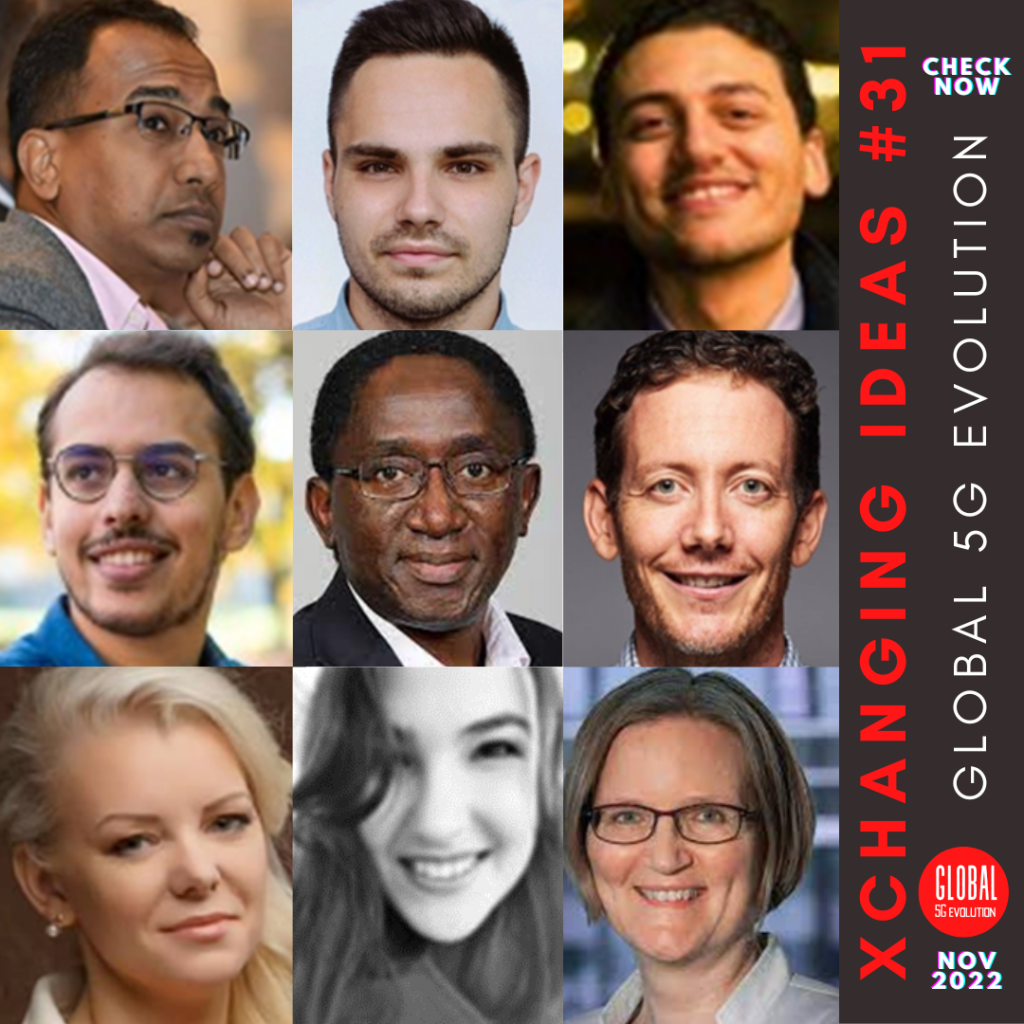 The 31st Season Session. 5G Standalone Challenges. 5G Deployment Strategy. 5G Metaverse. 5G Telco Cloud.5G Business Models.5G EDGE & Cloud. 5G for Remote Medical Education and in Telemedicine.5G, IoT & Machine learning in Vertical Industries.Looking Beyond 5G: What Can We Expect in 6G.
Telco cloud is a new solution revolutionizing how applications are created, delivered and how the world communicates. As "Learning Catalysers", LabLabee believes its role is to make learning and training on these technologies easier, more accessible, and more attractive for both students and professionals. Theory has never been enough and that is why; promises to deliver real-world practice with real-world use cases, built, validated and reviewed by telco cloud experts. 5G together with XR Doctor Medical Metaverse Platform lets scale real clinical cases training into simulation surgery on digital patient for a huge number of students. Significant reduction in training costs, increasing training efficiency. Collaborative remote work with the effect of personal presence in the "classes" or operating room regardless of the geographical location.
The 30th Season Session. 5G Edge Computing – The CSP Opportunity – Google Case Study. 5G Open RAN. Smart Supply Chains with 5G & MEC.3D live Digital Twins. Disaggregated Near-RT RIC Control Plane. Digital Transformation at the Edge empowered by 5G. Integrated Security for Telco Cloud Edge. Co-investment of MNOs & Big Techs, contribution to 5G investment.
Collaboration for the success of 5G Open RAN in a brownfield environment, there must be a synergy between the traditional and Open RAN vendors. Operators can help instill confidence as they will be the secret sauce in the success of the interoperability of openness. Powerful 5G solutions are brought to life by experienced Open RAN integrators. Now the bigger the opportunity the bigger the challenge, as deployments have rolled out, systems integration has been needed to validate and operationalize these end-to-end solutions because they converge challenges across multi-layers and multi-domains including radio, transport, core, cloud, data management, applications, devices, and security,
The 29th Season Session. 

5

G Cloud Gaming Driving Revenue Growth for SPs.  

5G RAN & New Features. 

5G for Rural Broadband. 

3D live Digital Twins. 

5G Private Network. 

Key Trends Of Digital Twin-Empowered 6G. 

5G Network Slicing. 

5G Edge & Cloud.
Ready to launch a 5G gaming service? Cloud gaming is changing the content distribution dynamics in the gaming industry. And 5G helps to enable ways for gamers to play anywhere, without continuously purchasing hardware upgrades or expensive games. 
Cloud gaming is a new way of consuming video games that's set to grow significantly in the next five years. The ultimate goal is to enable people to play any game on any device as long as they have a good internet connection. This is possible because the games (hardware and software) are hosted in remote data centers, from where the game is streamed to the player's device. Cloud gaming can therefore significantly reduce the cost of retail, packaging, delivery of hardware and improve ease of access for gamers. The development of new consoles is now slowing down or ending. This in turn puts high requirements on the connectivity network, especially in the case of mobile cloud gaming if user experience should be always good and when the evolution towards augmented reality (AR)/virtual reality (VR) takes off with even higher requirements.
The 28th Season Session. 5G Private Network & EDGE Cloud. 5G Operations Using Data & AI. Co-creating solution with 5G Ecosystem. 5G becomes dominant global smartphone technology. 5G Smart Construction. Web3 Technologies for Industrial Design. 5G Smart Manufacturing
Ultimately 5G, moves the construction of smart cities from the theoretical to the practical and paves the way for the development and deployment of new applications ranging from monitoring air quality, energy use and traffic patterns to street lighting, smart parking, crowd management, and emergency response. The smart city uses digital solutions, technology and data to improve significantly several key quality of life indicators. This leads to improved traffic and commute time, accelerated emergency response time, reduced healthcare costs, decreased water consumption, unrecycled waste and harmful emissions, and ultimately in a huge saving potential.
Smart cities use IoT to collect real time data to better understand how demand patterns are changing, and respond with faster & lower-cost solutions. Broadly speaking, digital city ecosystems are designed to run on ICT frameworks that connect several dedicated networks of mobile devices, sensors, connected cars, home appliances, communication gateways & data centers.
The 27th Season Session. Why Metaverse Need 5G to Succeed. 5G Industrial IoT. 5G Private Networks. 5G Security. 5G Connected Hospital. New Business Models for Telco using Blockchain. 5G for Healthcare. C-V2X Scenarios & Performance. Smart Transportation & 5G Release 18
C-V2X was developed by the telecom industry specifically for transportation safety applications & further standardized at the application layer by automotive & transportation stakeholders & is  gaining global mindshare. 
MNOs can utilize new business models to interact with the automotive industry to ensure that C-V2X services reach their full potential. Network slicing is likely a key component allowing MNOs to consistently meet the diverse requirements of automotive OEMs that span safety, convenience & efficiency use cases. The goal of network slicing is to allow MNOs to operate multiple logical networks, or slices, using their common infrastructure to serve multiple customers while simultaneously isolating the network slices to ensure specific SLAs.
Edge computing is a significant tool that can reduce latency for C-V2X use cases requiring computation by relocating those computations closer to the end user rather than existing in a distant public cloud data center.
Offering different slices of the mobile network based on specific service requirements of the end customer also gives MNOs the power to differentiate pricing and better monetize the full extent of their network capabilities.
The 26th Season Session. Moving 5G Network Functions to a Hybrid Cloud Environment. 5G Smart Manufacturing. Slicing & 5G Private Network. Smart Manufacturing. 5G Private Networks. Telco Cloud. Simplifying the Network Slicing Orchestration. 5G Private Network. Smart Transportation. Smart Transportation.
Network slicing still a critical gateway to 5G. Despite enterprise wariness about privacy and security, network slicing will remain an attractive option for SMBs and enterprises. By 2025, it is expected providers will offer network slicing via public networks as a cost-effective 5G option for SMBs because companies pay only for what they use.
Additionally, many IT teams might not have the resources or expertise to build and support the infrastructure required for a private 5G network, which includes 5G New Radio, a 5G core and transport using fiber or microwave. By using a provider's public network, customers can consume 5G services backed by a service-level agreement, while avoiding the hassle of procuring spectrum and maintaining the network.
It is indicated that network slicing via a public network is better suited for wide area networking — compared to a more contained LAN environment — making network slicing a "critical gateway" to 5G for smaller companies over the next few years.
The 25th Season Session. Open Source 5G for Private Mobile Networks. Igniting the 5G Edge Cloud. Agriculture Modernization
Edge AI over 5G. The next step of IoE Holoconferencing: 5G help make deeper immersive experience. AI & Machine Learning. 5G Smart Manufacturing. 5G in Smart Logistics. Moving 5G Network Functions to a Hybrid Cloud Environment
Holographic communication refers to real-time capturing, encoding, transporting and rendering of 3D representations, anchored in space, of remote persons shown as stereoscopic images or as 3D video in extended reality (XR)  headsets that deliver a visual effect similar to a hologram.
Compared with flat screen video, holographic communication can convey the subtleties of non-verbal communication and provide a sense of presence and immediacy that enhances the quality of human interaction. More than 50 percent of smartphone users expect this technology to be available to them within a few years. Consumers are not the only ones longing for more authentic forms of digital communication. A recent study showed that the main barrier to remote working was the need for social interaction. With the time spent working outside the office expected to increase in the coming decade, many office workers will require more immersive forms of digital interaction.
Starting with AR glasses & holographic calls with spatial audio, office workers around the world expect to benefit from the emergence of haptic technology, which adds tactile sensing of digital objects. More say they would like a digital workstation with multisensory presence at the office when working remotely.
Transferring huge amounts of data (>25TB) is difficult and complicated. Using the Internet to move data is slow and very expensive. Since most companies do not transfer massive amounts of data frequently, buying their own hardware is not cost effective. Big cloud providers subsidize equipment rental for data transfer, but this is for one purpose – transferring data into their cloud environment where they charge their customers a hefty price for ongoing storage. AcroTransfer enables you to move data between any cloud and any data center, when you need to, paying only for what you need.
The 5G-Industry Campus Europe is the first site in Europe with a comprehensive 5G network to explore & test new app for 5G in production environments under real-world conditions. With an outdoor network of around 1 km² & a shop floor of 8000 m², the 5G network covers the area of the RWTH Aachen Campus Melaten and the entire machine hall of the Fraunhofer IPT. To ensure that the results are transferrable to the industry, the 5G network operates within a frequency band of 3.7 to 3.8 GHz & additionally has access to a 4G network.
The 23rd Season Session. 5G Private Network in China. 5G rollout & vertical market spread. Private cellular-neutral host models, business case beyond eMBB. 5G as an enabler for Edge computing. Accelerating 5G deployments with Cloud Adoption. Infrastructure disruptive wireless mesh tech in the 5G landscape. 5G Spectrum Optimization: Indonesia Case. 5G monetization, how to achieve it? 5G Private Network in APAC
Policymakers will, therefore, need to consider making more spectrum in mid-band and prepare national spectrum roadmaps that consider future 5G area traffic demand density. There is a concern in the mobile industry that regulators may not be fully aware of the scale of the 5G traffic density challenge in urban areas. Specifically, there is a concern that regulators may not be planning to clear and award enough mid-band licensed 5G spectrum between now and 2030. If no additional mid bands spectrum is made available, all options for further densification would require several thousands new mmWave macro sites and/or new mmWave small cells over large areas i.e. not only locally.
Based on Cloud Native Ultra Service Platform, IPLOOK provides a fully integrated end-to-end 5G wireless solution, that includes integrated Radio Access, high capacity 5G Core Network, high reliability 5G MEC cloud platform, 5G CPE, Artificial Intelligence and other digital technologies. It is essential to support multiple network access models, serve a variety of differentiated application scenarios, and meet the customized network building needs of Operators and Enterprises.
A 5G NTN space-based as specified in 3GPP Release 17 and beyond could provide at least the following features: Roaming between terrestrial and satellite networks, Extra territorial 5G services. Broadcast and multicast with satellite overlay, Massive Internet of Things with the satellite network element, Optimal routing of 5G traffic over the satellite, Satellite transborder service continuity, Satellite system functional integration to minimise end-to-end delay, Fixed and moving backhaul services over all targeted service areas. Taiwan. 
HTC, a leading innovator in 5G, smartphones and virtual reality, today jointly announced with the Kaohsiung City Government the official launch 5G Standalone Architecture Private Network and Edge Cloud VR Solution, setting a new standard for global 5G private networks. Installed in Kaohsiung's 'KOSMOSPOT x VIVELAND' development zone, the first field of 5G private network that is now open to Taiwan consumers and enterprises.
The Positioning and Networks Division of the Fraunhofer IIS develops wireless communication, positioning and identification technologies for IoT, Industry 4.0, connected mobility and Supply Chain Services. Fraunhofer IIS also reaches for the future of industrial communication in 5G and 6G networks with technologies for low-latency communication and high-precision positioning. Our Test and Application Center L.I.N.K. is a realistic development and evaluation environment close to application conditions for technologies and services. With 1,400 m2 of indoor and laboratory space, 10,000 m2 of outdoor space, and a 100 m test track, network and positioning technologies can be evaluated and compared with each other with respect to their usability. The L.I.N.K. provides a realistic setting for the 5G Industry 4.0 test bed, The 5G Industry 4.0 test bed is an open environment for testing specific customer use cases in industry and logistics. It employs the latest mobile technology under real-life conditions in a OPEN RAN SA 5G campus network. Our services range from studies, consultation, research and development, technology licensing to the development of prototypes ready for practical use.
The gaming market is expected to be worth over USD189 billion in 2022 from USD 149 billion in 2019. At USD68 billion (9.7 percent year on year growth), mobile (tablet and smartphone) accounted for 46 percent of the games market in 2019. This trend is likely to continue in 2022, especially so with the deployments of 5G networks and devices.
Private 5G-as-a-service platform, which it calls P5G, would use CBRS, 4G/5G frequencies available as public licenses, and sub-6GHz bands in the US to provide businesses with their own 5G networks. In combination with edge computing, the technology creates the possibility of transformative use cases in the industrial, automotive, and energy sectors. That's because a private 5G network or even one that includes a virtual private network over public infrastructure for part of its functionality can guarantee throughput and latency levels that next-generation uses cases require.
AR will help us put away our handheld devices and interact more naturally with the digital and real worlds with an interface that can intuit and proactively help us meet our needs, rather than simply react to our input.  In order to keep building the future of AR, we're going to need a greater variety of first-person data from real-life situations that we can use to train digital assistants.
The factory of the future will be clearly dependent on an additionally sophisticated communication infrastructure to meet the requirements of flexibility, dynamics and security. LTE or 5G campus networks have significant advantages over WiFi networks. BAYFU will ensure that all phases of implementation are carried out efficiently and professionally: from classical radio network planning and implementation management, through to the procurement of subsidies and coordination with the regulatory authorities, right to integration into the corporate IT.
Reliance Jio and Jio Platform transitioning its vast and complex 4G network to cloud native and 5G. Jio Platforms designed, built and deployed new tech on cloud native platforms that is backwardly compatible with all BSS/OSS functions. Network management reduces annual maintenance costs by 90%, provisioning more than 5,000 sites with zero-touch; fulfilment management delivers an estimated 50% rise in operational efficiency.
Telco cloud is a software-defined, highly resilient cloud infrastructure that allows telcos to add services more quickly, respond faster to changes in demand, and centrally manage their resources more efficiently. It is one of the key foundational components for transforming a telecommunications company into a digital service provider. Red Hat's telco cloud solution provides telco-grade cloud platforms that support virtual and cloud-native network functions.
The race for the 6G wireless networks that will be operational in 2030 has already started. To fulfill its potential in the upcoming decade, 6G will require an architectural orchestration based on the amalgamation of existing solutions &innovative technologies. The book will begin by evaluating the state of the art of all current mobile generations' while looking into their core building blocks. 6G implementation will require fundamental support from Artificial Intelligence (AI) and Machine Learning on the network's edge and core, including a new Radio Frequency (RF) spectrum. The 6G use cases will require advanced techniques for enabling the future wireless network to be human-centric, ensuring enhanced quality of experience (QoE) for most of its applications.
Unmanned Life is changing the way robots are being deployed by providing seamless orchestration of autonomous robotics with its Autonomy-as-a-Service software platform. Unmanned Life integrates different technologies. Such as AI, 5G, and Edge computing with multiple robots, like drones and/or autonomous mobile robots (AMRs) and a variety of capabilities to enable autonomous robotics operations across multiple industries in particular, Industry 4.0 and Smart Cities.
The Scotland 5G Centre is the national centre for accelerating the deployment and adoption of 5G and realising its economic and societal potential for Scotland. The Scotland 5G Center offers:
-a range of events where you can meet project and consortium partners, researchers, policymakers and innovation organisations
-signposting to 5G opportunities in key sectors such as rural development, urban innovation, health, manufacturing and events & tourism 
The standards for 5G end-to-end network slicing have only recently been completed in June 2021 and have been a bottleneck for the more promising use cases. The majority of MNOs are planning to implement 5G network slicing by 2022, with commercialization from 2023. Slice-as-a-service (SlaaS), slated as a top revenue generator for MNOS, is expected by 2025, if not earlier.
Based on proven 4.9G technology and the world's first private 5G standalone solution, Industrial-grade Private Wireless is easy to deploy, as robust and capable as Ethernet, and provides a smooth upgrade path to future releases of 5G. It can digitally connect all your critical operations in real time, no matter how fast the parts are moving. Nokia references include:
-420+ enterprise customers have deployed Nokia private wireless solution globally in a variety of vertical segments
-370+ LTE networks for mobile operators that serve more than 75 percent of the world's LTE subscribers
-1,500+ mission-critical networks for a wide range of enterprises, including utilities, mines, airports, maritime ports, manufacturers and logistics companies
Open RAN is a new way for operators to build mobile network infrastructure. It brings interoperability, flexibility, automation and innovation to the RAN. To fully realize these benefits, operators need to pursue a cloud native virtual RAN (vRAN) implementation.
AWS Mobile Private Network – Get your network up and running in days with no long planning cycles, no complex integrations, and automated setup. Secure your network with granular access controls for all connected devices, integrated with existing IT policies. Scale your network capacity on demand or add devices with a few clicks, and pay only for the capacity and throughput you use. Connect thousands of devices and machines with the low latency and high bandwidth of a private 5G network.
DISH, hosting its RAN and mobile core on Amazon's public cloud infrastructure.
Rakuten Mobile is the world's first fully virtualized, cloud native, Open vRAN network.
SK Telecom continues to lead the 5G MEC developments within the mobile businesses alliance due to its edge cloud expertise. For instance, SK Telecom partnered with Amazon Web Services last year to launch 5G cloud services in South Korea. Additionally, in 2021, the Korean telecommunications firm collaborate with AIS and Optus to create a 5G-service upload and download function for the 5G MEC Hub.
Hitachi, Integrating 5G connectivity in the TRO600 series ensures optimal efficiency for multiple customer use cases across smart cities, oil and gas, mining, manufacturing, and utility applications. The high throughput supported is expected to drive greater adoption of virtual and augmented reality and video applications to aid operational efficiency and optimize processes. Meanwhile, the ultra-reliable low latency communications (URLLC) allow for greater digitalization of operational infrastructure and scalability of mission-critical control applications.
innovate5G – to open up the 5G ecosystem beyond traditional players and enable everyone to participate. innovate5G developed a platform – in5Genius – for application developers to test their 5G applications in a cost-effective, secure & pressure-free environment. Whether its an idea for a gaming, industrial or enterprise application, innovate5G is eliminating barriers for developers to test out their ideas- such as having to partner with a carrier or large OEM. innovate5G is working with universities and innovation zones to build 5G networks and it is developing a lab-sharing model in a similar to Airbnb. It also designs and builds bespoke private CBRS LTE &  5G networks for enterprises.
5G Connected Forest project-to explore the potential for 5G applications in the forest preseveration & their environment, in enhancing the experience of visitors to the forest & surrounding area. From robotic environmental management & non-intrusive live monitoring of forest health, to live AR & VR experiences for visitors, inspiring public transport users; the project will also investigate business models that can enable operators to boost rural connectivity & create innovative applications with the potential for commercial development.
1000 realities is a software studio focused on Virtual Reality (VR) and Augmented Reality (AR). 1000 realities craft fully immersive, interactive applications which will enchant your customers. We create new, mind-blowing realities, where human imagination is the only limit. Our solutions can be applied for endless purposes in many different fields, from virtual visits, marketing, promotion, brand storytelling to HR/employer branding projects and interactive trainings and simulations. We will help you to enhance brand engagement and business-to-consumer interactions, present your project with an amazing sensation of truly 'living' the story you find yourself in or create an immersive, super engaging tool for training your employees/engineers.
Latest trend in AR/VR in health & safety VR trainings, industrial VR trainings, logistics VR/AR, medical VR/AR, automotive VR/AR, AR assistant, smart badge, archviz VR/AR, marketing VR/AR experiences, soft skills VR Trainings, Entertainment VR/AR, AR in museum and heritage sites
There are three big names in Australia.
Optus turned on their Standalone 5G network for limited trial in late 2021. You can order 5G Home Broadband with a 50 Mbps Satisfaction Guarantee. One of the plans maxes out at 100 Mbps, but the other one doesn't, and is said to offer average download speeds of over 200 Mbps.
Telstra, Of the thousands of sites now in operation, over 3,000 suburbs and over 200 cities and towns have coverage, which amounts to over 75% of the population, including Queensland, Adelaide, Perth, Canberra, Melbourne, Tasmania, Sydney, Brisbane, Hobart, Launceston, and Toowoomba. The goal is to reach 95% of the population by mid-2025.
Telstra launched a 5G home service in late 2020. In early 2021, they doubled the included monthly data limit from 500 GB to 1 TB. In November 2021, 5G Home & Business Internet launched, with download speeds of up to 600 Mbps.
Edge devices can contribute to a cloud, if the storage and computing capabilities provided by those devices at the endpoints of a network are abstracted, pooled, and shared across a network—essentially becoming part of a larger cloud infrastructure.
Clouds are places where data can be stored or applications can run. They are software-defined environments created by datacenters or server farms.
Edges are also places where data is collected. They are physical environments made up of hardware outside a datacenter.

An edge (location) is not the same thing as edge computing (action). Collecting data at the edge of a network and transferring it to a cloud with minimal (if any) modification is not edge computing—it's just networking.
But, if that data is collected and processed at the edge, then it's edge computing.
Fujitsu, Japan's first commercial Private 5G radio station license from the Kanto Bureau of Telecommunications and will begin operating a Private 5G network at its Shin-Kawasaki Technology Square office.
Fujitsu will strengthen crime prevention measures in the building by leveraging its Private 5G technology for data transmission of high-definition images collected by multi-point cameras, creating an AI-powered security system that quickly detects suspicious behavior through motion analysis. Through its newly-established private 5G co-creation space "FUJITSU Collaboration Lab", Fujitsu will also offer customers and partners the chance to workshop various use cases for private 5G to deliver business innovation and help resolve regional issues. Fujitsu experts will also provide support with on-site implementation for customers at the location. With the aim of creating a smart factory, Fujitsu will additionally obtain a license for private 5G at its Oyama plant in Tochigi Prefecture, which serves as a manufacturing base for network equipment. 
This new mobile mode of operation has the ability to offer the necessary technology for mobile network operators (MNOs) to operate the unlicensed spectrum into 5G networks and make some of it available for corporate networking. New standardization will enable the enterprise networks to gradually adopt these new mobile networks to their connectivity framework, in order to leverage the benefits of new modern applications and alignment to their connectivity, scale and quality of service requirements.
5G features a separation of data/user and control planes that is an architectural advantage, particularly helpful for large IoT deployments, dynamic scalability and services and higher data rates with greater bandwidth efficiencies. It offers more distributed processing for greater scale and less susceptibility to a single point of failure. It also represents a shift from best-effort networks to ones that can provide better, more differentiated levels of services and prioritization. This separation requires a new approach for network visibility to understand who is doing what. This is an issue for security as well as networking performance.
Network slicing is an important technological development that CSPs look to capitalize on. It provides a way to offer differentiated services with guaranteed quality of service across common network infrastructure. This is much more efficient than previous techniques to "nail up" or dedicate infrastructure resources to support differentiated service requirements.
Various industry organizations have contributed toward standards that ensure that CSPs can avoid vendor and technology lock-in as they architect their approach to network slicing.
CSPs will not employ network slicing for all services they offer. But for those services that they do, CSPs will need to automate the process to design, deploy and assure network slices to be cost effective and ensure they meet contracted SLAs. The complexity and dynamic nature of network slice-based services is far too complex to leave to manual operations.
CSPs need to be able to abstract the network complexity, and expose the network slices to the market, in order to let business customers flexibly and easily subscribe to a slice, configure the SLAs based on the needs of their customers in support of new business models (B2B2x).
The right 5G monetization systems can be a superpower that allows communication service providers (CSPs) to deliver the promise of 5G from day one. Through performance enhancements such as faster network speeds and bandwidth, ultra low latency, guaranteed quality of service, network reliability and a more flexible service offering, 5G creates new monetization pathways for CSPs into both traditional and new markets – including a renewed focus on enterprise and industry. To address 5G use cases and deliver the full potential of 5G, CSPs must evolve their business support systems (BSS) together with their 5G implementation, or else risk falling behind in the 5G quest for profitable 5G services. Watch the video and get ready to address new 5G use cases.
Smart Mobile Labs is the global leader in real-time many-to-many video transmissions. With its core technology EVO (Edge Video Orchestrator), the company enables secure, dynamic and high-quality distribution of video, audio and data streams over the mobile network – with a maximum latency of 100 milliseconds. SML uses its unique technology to create unprecedented solutions for sports & event venues, public safety and connected cars. 
University of Surrey have developed in-house 5G Core (5GC) network functions and conducted several successful demonstrations of slicing using early 5G radio systems. The 5GIC 5GC is currently being updated in accordance with ratified Release 16 standards. University of Surrey  embrace the 3GPP-defined Service Based Architecture (SBA) and have demonstrated slicing over an CNF-based SBA infrastructure using MANO-based Operations and Administration (OAM). The 5GIC testbed supports different slices by service type and market.
Manufacturers are relying on 5G networks & edge computing to deploy autonomous robots, enable predictive maintenance & counter labor shortages. There are two key emerging technologies that will accelerate efforts to digitize factories: 5G, a wireless standard that's fast and can handle lots of data, and edge computing, which refers to distributed systems for processing data close to the sensors generating it. Digitized smart factories have greater flexibility and visibility, both increasingly important to buyers. With more tracking & oversight demanded of modern factories, companies have started using 5G and edge computing to enable applications like predictive maintenance.
AI will become one of the most important enabling technologies for 5G automation. How to use the powerful analysis, judgment, and prediction capabilities provided by the AI algorithms to enable 5G equipment, networks and service systems, and combine them with the planning, construction, maintenance, operation, and optimization of carriers' networks become an important topic in the ICT industry.

This aims at presenting the most relevant use cases, prominent research outcomes, latest standard developments and related standardization gaps, examples of AI strategy interpretation, AI solutions – including communication intelligent platform, AI model service, and deployment solution – and typical application scenarios. As a part of this framework, this article introduces the most important aspects of AI security, in terms of protecting the integrity and confidentiality of AI models and data, and thus preventing attackers from changing the inference results or stealing data – Professor Dr. David Soldani.
UC Berkeley Students use 5G drones to prevent wildfires. There is a link between wildfires and power lines that have emerged in the past several years. In 2017, power lines owned by Pacific Gas & Electric were blamed for a dozen Northern California wildfires and 18 related deaths. A report shows that these fires occurred because of poor vegetation management, resulting trees and braches coming into contact with power lines. A group of six UC Berkeley students has developed a solution called Drone 200 that will combat poor vegetation management and vastly reduce infrastructure-related fires by using 5G enabled drones. Through an automated flight path and remote control via a low latency 5G connection, these drones will collect video imaginary of vegetation near power lines and use a computer vision algorithm to detect any potential fire hazards.
Open Source 5G Core Development- 5G Core is conceived as a set of disaggregated, cloud-native applications that communicate internally and externally over a set of well-defined standard interfaces. This means the associated life cycle events will follow standard continuous integration/continuous delivery (CI/CD) and GitOps patterns. This requires the platform to support functionality like automated deployment, intelligent workload placement, dynamic scaling, seamless upgrades and self healing.
Each 5GC component is implemented as a container-based application and is referred to as cloud-native network function (CNF). This requires the container platform to support functionalities and operational features like automated deployment, intelligent workload placement, dynamic scaling, hitless upgrades, and self healing. This presentation covers how to architect an open 5G Core solution with cloud-native technologies, focusing on an on-premise, stand-alone deployment approach. 
Virtual Reality (VR) has relevance in education and training, and will have a big role in providing quality education and improving understanding-based learning among students. AR can enable new ways of learning and team working in education through services such as mobile cloud classroom and Virtual Presence. Enhancing the learning experience is not the only possible use for AR. It can also help teachers to get necessary information about each student and be aware of their particular needs and capabilities. For more classical subjects, such as music, we saw a great example from songwriter and musician Jamie Cullum last summer. He led the world's first 5G music lesson from a piano in the Roman Amphitheatre in London. 
5G technology can also help workers learn new skills for life. Training on the job in real-time is made possible over a 5G connection, connecting staff remotely with experts not stationed in the field. Not only does this enhance team members' ability to learn, but it also drives efficiency and reduces travel costs. The outbreak of COVID-19 has made this even more relevant, allowing remote experts to educate from a distance where travelling to site just isn't possible.